A wonderfully atmospheric story, full of skilfully layered secrets

Andy Shepherd, author of The Boy Who Grew Dragons
It was the discovery of a 100-year-old gardener's notebook at Ickworth House in Suffolk which fired the imagination of author A. M. Howell. Who wrote in it? Who would have worked in this garden over a century ago? What would they have thought of the world they were living in?
The Garden of Lost Secrets will take you into a world of mystery and war. Clara is sent to stay with her formidable aunt and uncle in the Gardener's Cottage of a country estate. But amongst the hothouses and sweeping grounds hide many secrets: a locked room and a hidden key, and a mysterious boy who only appears in the gardens at night…Except Clara has a secret of her own — a terrible one, buried in the pocket of her pinafore. And for Clara to unravel the garden's secrets, she will have to face up to a truth she can't bring herself to acknowledge and a war she's desperate to forget…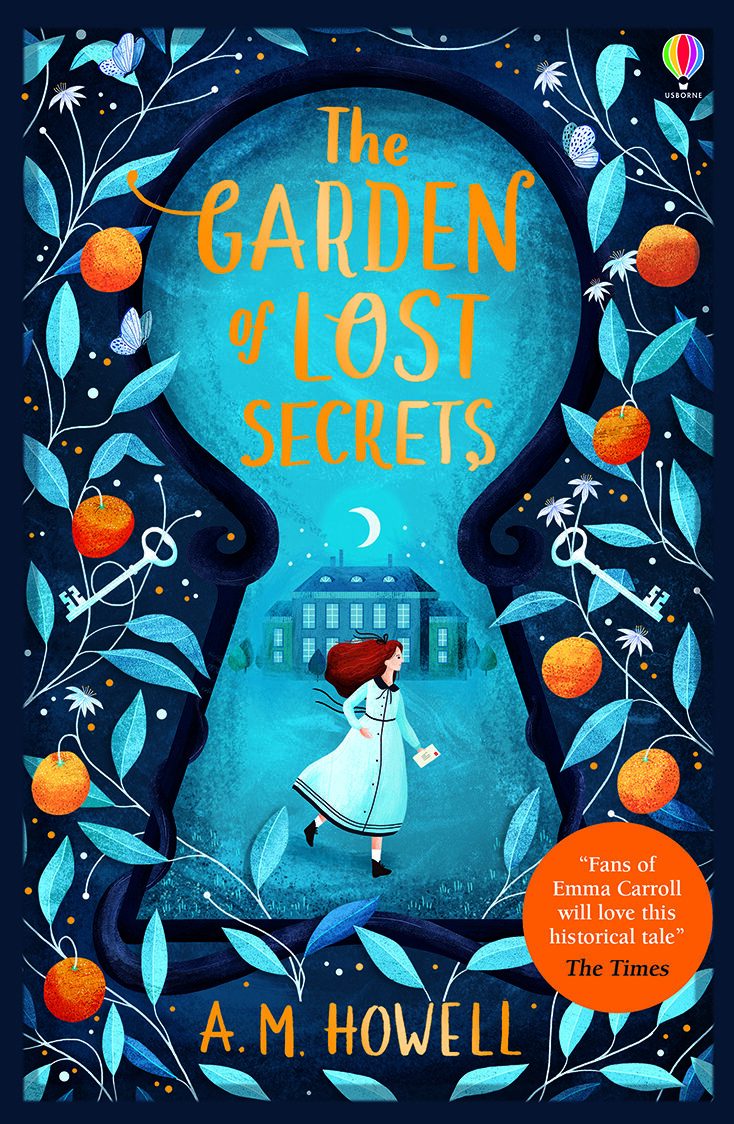 Reviews
Mystery and detective stories

I loved this book and found it hard to put down. I recommend this book to people who love mystery and detective stories.
Look for clues

Throughout the book, Clara looks for clues because she deeply wants to know the truth about what happened to her and what her Aunt is keeping from her. When Clara meets a friend, they work together to solve all the mysterious things that happen in the book.
Adventure and mystery

The Garden of Lost Secrets is an adventure and mystery book. It describes a friendship which is unstoppable.
Secrets all around

This book is set in a old country home during the First World War. The main character, Clara, has been sent there to live with her Aunt and Uncle. But, there are secrets all around and it seems everyone has something to hide.
I would want to be Clara

My favourite character is Clara because she is a very determined girl and she loves solving things. If I was in the book, I would probably want to be Clara.
Helps your imagination

I would recommend this book because it is about the war and it's really good as it helps your imagination so you could be there.
The details were key

I though this was a great book and the details were key. I loved the story and the twists involved. I also liked all of the characters.
Many mysteries

I loved this book because there are many mysteries. Also, I liked Clara because she is a very brave character.
The book was always asking you questions

The book made me feel excited and wanting to know what would happen next. It for this because the book was always asking you questions and making you think. I think the moral of the story is don't give up on somebody and believe in them throughout.
Vibrant and detailed

I would recommend this book to anyone that loves history, intrigue, mystery and adventure. The descriptions are vibrant and detailed, and would take any young reader back in time to World War One.
I didn't want to put the book down

I found it very exciting when Clara found the key to the mysterious room. I just wanted to keep on reading and I didn't want to put the book down at that part.
A 100-year old notebook

This story was written by Anne Marie Howell, who lives in rural Suffolk in England. She was inspired to write this story after hearing about the discovery of a one hundred year old notebook.
You can't wait to see what happens

This is such an exciting story and you can't wait to find out what happens. My favourite character is Will. He is so brave and friendly, and he would never take something that wasn't his.
All the secrets unravel

I enjoyed reading The Garden of Lose Secrets. It was an interesting mystery and as you read through it, you can see all the secrets unravel towards the end.
Mystery and secrets

I really liked this book because I love a book that has mystery and secrets.
I was totally absorbed!

I enjoyed this book because I was totally absorbed in Clara's world: her fears and her friendship with Will. I loved how Clara bravely defended what was important to her.
The absolutely perfect mystery!

The absolutely perfect mystery with everything you would want in one. I wouldn't have guessed it was a first novel, with all the twists, turns and lies.