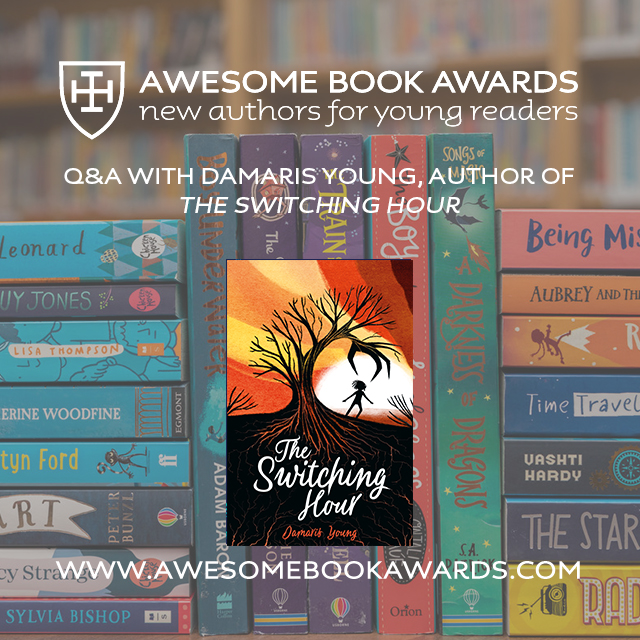 Where did you write The Switching Hour?
I wrote The Switching Hour when I was studying on the Writing For Young People MA at Bath Spa University. The building looks a bit like a castle and it's surrounded by woodland. Even peacocks roam around the grounds! It's a magical place, perfect for writing stories.
What inspired you to write your book?
I've always had vivid dreams, ever since I was young. I wondered what it would be like if there was a creature that could actually eat your dreams? I thought it would make an interesting story.
How long did it take you to write The Switching Hour?
It took me three months to write the first draft of the story. After that, there was lots more work needed, from copyediting and proofreading. From start to finish, it took about a year.
What does a day in your life look like when you're writing?
I always start the day by walking my dogs, even if it's raining or snowing. Walking in the woods near my house helps my brain wake up and I can start imagining the different characters and worlds I would like to write about that day. I then make breakfast and a cup of coffee and head to my office. There is always lots of other work that needs doing, as well as writing a book. I spent some of the day making author videos for schools, or replying to emails and eating biscuits.
Describe your book in three words?
Magical, mysterious and adventurous.
Climate Change and drought are strong messages entwined in your story. Was this always the case; did it evolve as you were writing or did you know you wanted to include this from the outset?
I'm really interested in climate issues and how we are treating the planet. I think that certain subjects that interest you always creep into your stories. With The Switching Hour, I realised soon after setting the story in a terrible drought that I wanted to explore climate change and what it means for our natural world.
Are the origins of the monster, Badeko something you were told as a child?
Although I was inspired by myths and legends of forest-dwelling creatures, Badeko is a made-up monster that represented my own fears of the dark when I was younger. Our imaginations are very powerful and I wanted to explore that in a shape-shifting creature that only came out at night.
When writing the book, was it difficult reining in the fear elements of the story so that it didn't become too scary for your potential readers?
I always write my stories by imagining what it was like to be younger, which helps me keep in mind the audience the story is being written for. I remember what it was like to be scared of the dark, but also what it feels like to overcome those fears. I knew that by including a courageous friend and a fiercely loyal goat in my story, Amaya wouldn't have to face her fears alone. It's important to have friendship and kindness and hope in my stories.
How would you describe yourself as a child?
Curious and shy, I loved spending time with my family and my animals. Reading has always been my favourite thing to do.
What was your favourite book as a child?
My favourite book was Beyond the Deepwoods by Chris Riddell and Paul Stewart. I'm fascinated by the strange and wonderful world in that story and the extraordinary characters that live there!
What was your favourite subject at school and why?
Even though I struggled with my spelling and I didn't find Shakespeare very interesting, I still loved English lessons. I also had a wonderful English teacher, who encouraged me to write my own stories and who gave me the confidence to dream of being an author. Teachers are amazing and they can have a huge impact on the rest of your life!
Which book are you reading at the moment?
I'm re-reading When Life Gives You Mangos by Kereen Getten, because I loved it so much the first time. It is about a girl called Clara who can't remember anything that happened last summer. It's beautifully written and very moving.
If you had the opportunity to meet any author (alive or dead!), who would you meet and why?
Frances Hardinge, author of one of my favourite books Cuckoo Song! She writes such magical worlds and I would love to ask her which of her books was her favourite to write.
What advice do you have for young writers and readers?
Read lots of different stories! Don't be put off if you don't like a story. Always try reading another book, maybe in a different genre or style. There are so many new and exciting worlds to explore and lots of different characters to meet. Reading lots of different books can also inspire and motivate you to write your own stories.
Has it been difficult publishing your second book The Creature Keeper during the restrictions followed by the current lockdown?
It was sad not to be able to visit The Creature Keeper in bookshops, but there are so many amazing booksellers and teachers and readers who interacted and engaged with the story online. It is such a privilege to have a book out in the world and it's an experience that I will never take for granted. I hope to visit schools when it is safe again because it's so much fun meeting readers in real-life. It's one of my favourite things to do as an author.
More About Damaris Young