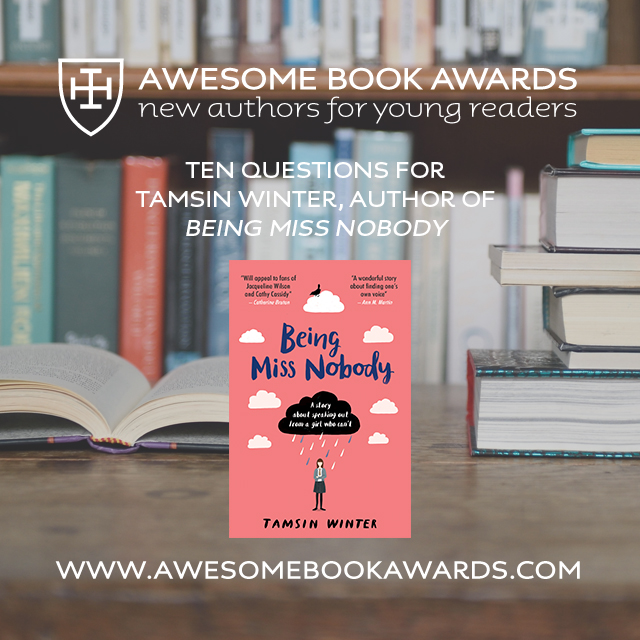 Where did you write Being Miss Nobody?
I wrote it in various random places! Most of it was written after work at home in Leicestershire, usually staying up very late. I then moved to Dubai and continued working on it there. I edited most of it while I was staying in Italy. It probably sounds rather exotic, but really I wrote it whenever and wherever I could until it was finished. It just took rather a long time!
What inspired you to write your book?
I wanted to write a book about a character with anxiety to show how difficult it can make everyday life, particularly for someone starting a new school. The character of Rosalind came to me in a flash of inspiration. I pictured a silent girl, being ignored by everyone around her, with all these words she wanted to say tumbling around in her head, but unable to say any of them. That image I had of all Rosalind's words became one of the first illustrations in the book (created by illustrator Emma Trithart).
Once I'd decided to write about a character with Selective Mutism (SM), I knew I wanted her to use social media as a way of speaking out. As a teacher, I'd seen the positive and negative sides to social media for teens, so I wanted Rosalind to figure this out the hard way.
Mostly, I wanted Being Miss Nobody to show that people with mental health conditions can be smart, funny, kind, and a little bit awesome actually.
Who is your favourite character in Being Miss Nobody and why?
Apart from Rosalind, I absolutely love her little brother, Seb, which made writing some of the later scenes in the book extremely difficult to write. Seb is so warm, funny, excitable, and he's a brilliant ally for Rosalind, who finds it virtually impossible to make friends because she can't speak at school. It was fun writing his many weird poo jokes. I also love the character of Rajit, the self-appointed leader of the 'Library Squad'. His outrageous plans for Book Week crack me up.
How long did it take you to write Being Miss Nobody?
AGES! From the time I first began writing it, to when it hit the shelves was about two years. It took me so long I actually had time to have a baby! My second book has taken about the same amount of time. There's the narrowing down of ideas, planning and plotting, of course, the actual writing of it which takes absolutely yonks, then the vast amounts of editing to make it any good. Plus, I have to allow plenty of time for generally tearing my hair out, avoiding it completely, and having cups of tea. I'm hoping I might speed up a little bit for my third…
Describe your book in three words?
Sad, funny, heart-warming.
How would you describe yourself as a child?
I loved reading and writing stories, and any time I had friends over we'd write plays and perform them to our parents. I can remember setting up a library in my wardrobe. I'd encourage (force) members of my family to take out books and issue fines if they brought them back late. Once, my best friend and I dressed up as grannies and walked around the village pretending to be old ladies. I have no idea why we did that actually. I grew up in the days before mobile phones and the internet and endless TV channels, so that's probably why. Plus, I lived in the middle of nowhere so there was doubly nothing to do. And I read a huge amount of books. So, I guess I was pretty dorky really.
What was your favourite book as a child?
There are so many it's impossible to pick a specific book. I spent my entire childhood reading, and I am so grateful to have lived in a family that valued books and storytelling. I loved Roald Dahl, the Worst Witch books, The Secret Garden. Then, as I got slightly older, I loved Little Women. I've always loved books that can make me laugh and cry. When I started secondary school, I discovered Judy Blume's books and they were just about the best thing to have ever happened to me.
What was your favourite subject at school and why?
It won't come as much surprise to learn that my favourite subject was English! I was lucky to have brilliant English teachers whose lessons were always enjoyable and interesting. I didn't enjoy many aspects of school, so my English lessons were a joy.
If you had the opportunity to meet any author (alive or dead!), who would you meet – and why?
This is such a tough question because there are so many I would love to meet! I think it would probably be Jane Austen. I re-read her books over the summer and fell in love with them all over again. I'd get her to take me to a lavish ball in a carriage, where I would ignore all the pompous gentlemen, and chat to Jane about how ridiculous society is. I know she would be hilarious. I'd get to wear one of those 19th-century frocks. (I'm assuming I get to time travel.)
What advice do you have for young writers?
Read! And re-read the books you love. It is the best and most enjoyable way to become a good writer. Writing is like any other skill, if you practise it regularly, you'll get better. The good news is – all you need is an imagination. And most of the young people I know have that in abundance.
More About Tamsin Winter