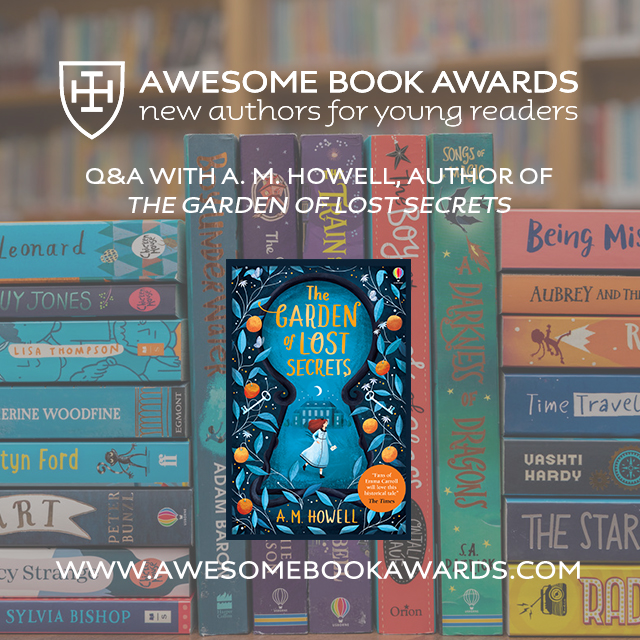 Where did you write The Garden of Lost Secrets?
I wrote it at my kitchen table after work and at weekends.
What inspired you to write your book?
The story is set in the kitchen gardens of a real country estate called Ickworth Park, now run by the National Trust. I read about the discovery there of a gardener's notebook that had been stuck behind a cupboard for one hundred years! This captured my imagination and the next time I visited the gardens I imagined a character, who became Will, writing in a notebook near the hothouses. The story snowballed from there.
How long did it take you to write The Garden of Lost Secrets?
It took me about two months to write it and then another two months to edit it. This is the fastest I've ever written a story and every book since has taken far, far longer!
What does a day in the life of A M Howell look like when you're writing?
I work as a town planner during the week, with one day off to write. On my writing day I try and sit at my desk from 9am-5pm to make sure I get lots done. I also write after work and at weekends too — just whenever I can fit it in around family life really!
Describe your book in three words?
Mysterious. Secrets. Pineapples.
Writing historical fiction must involve doing a substantial amount of research. Is this something you enjoy or are you itching to get on with the writing? The mystery elements and multi-layered secrets of your story must have taken a great deal of planning too! Did you have to keep a close eye on tying up all the strands whilst writing?
I do a flurry of research to help me start writing the story and then lots more after I've written a first draft which I feed in during the editing stage. I definitely have to keep a close watch on all of the mystery elements and make sure they tie up nicely at the end — I make lots of lists to do this.
It has been announced recently that you have been commissioned to write two more MG historical novels, which is very exciting. Have you any idea which time period they may be set in?
It's very exciting to have two more books coming out with Usborne! My next book is set in 1910, during the Edwardian era and is called The Mystery of the Night Watchers. It's packed full of secrets and will be published in July 2021. I'm planning on setting my fourth book a bit later on in time after WW2.
When reading your book, I kept noticing pineapples in the most unexpected places! Does this happen to you and do your family and friends buy you things with pineapples on?
Yes! I have a pineapple lamp, a jewellery tray, bookends, ornaments and even straws! I also have a lovely pineapple plant that I bought when I was writing the book back in 2018. It's still alive but sadly has had no pineapples on it for two years now. I keep hoping for another as they can take four years to grow.
How would you describe yourself as a child?
Bookish and shy.
What was your favourite book as a child?
I read every Famous Five book I could get my hands on which I think is why I like writing my own mysteries today.
What was your favourite subject at school and why?
I loved English and Drama, mainly because they involved a lot of reading and storytelling.
Which book are you reading at the moment?
The Midnight Guardians by Ross Montgomery (it's excellent!).
If you had the opportunity to meet any author (alive or dead!), who would you meet and why?
I think it would be Enid Blyton. I would quiz her on her writing process and see if she could give me any tips on how to plot a good story!
What advice do you have for young writers and readers?
Read, read, read, write, write, write, edit, edit, edit.
More About A M Howell