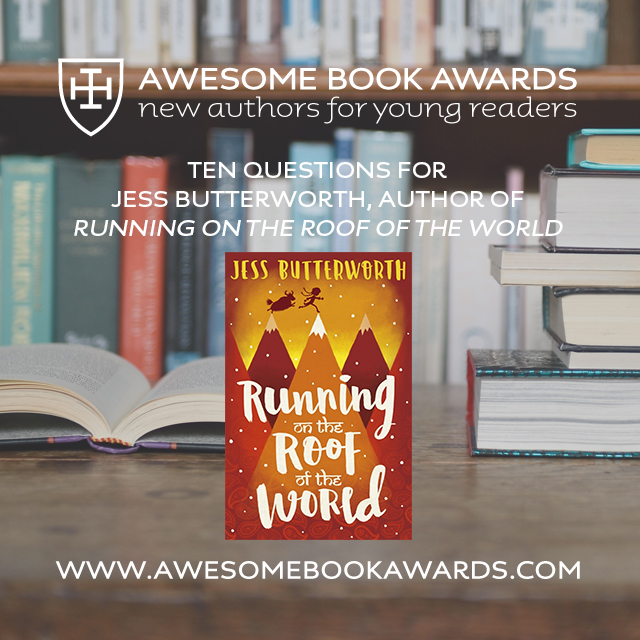 Where did you write Running on the Roof of the World?
I began writing Running on the Roof of the World in Dharamshala in India, where the Dalai Lama and a Tibetan community in exile live. I would often take my notebook, or laptop, and sit on one of the giant boulders overlooking the valley in the Himalayan foothills. I finished writing it in my bedroom in Bradford-on-Avon while studying for a masters in creative writing at Bath Spa University.
What inspired you to write your book?
As a child, I grew up between India where my dad's family lived, and the UK, where my mum's family lived. Growing up, I had lots of friends who were Tibetan and whose family had made the journey over the mountains from Tibet into the safety of India. Writing has always been my way of making sense of the world around me and when I was visiting my dad in the Himalayas in 2013, I learnt more about the current abuse of human rights within Tibet. Tashi's voice soon appeared in my head and I started writing.
Who is your favourite character in Running on the Roof of the World and why?
I love Tashi and Eve! Tash has so much courage, compassion and resilience. She's also very headstrong and loves the mountains. Eve is loving and such a wonderful animal companion. Her name originated from 'Everest' because I imagined her being as strong and sturdy as a mountain.
How long did it take you to write Running on the Roof of the World?
A long time! After travelling and doing research for the story, I completed the first draft in several months but after that, there were two years of editing. I think I rewrote the whole story about fourteen times in total.
Describe your book in three words?
Himalaya. Adventure. Yaks!
How would you describe yourself as a child?
I loved being outside and exploring woods or climbing trees. I also adored animals. I have three younger sisters that I would try and get to act out stories that I made up (sometimes more successfully than others!) I also enjoyed reading and I loved being free to choose my own books to read at our local library.
What was your favourite book as a child?
So many! I loved adventure books that invoke a sense of wonder with the world, such as Kensuke's Kingdom by Michael Morpurgo, Holes by Louis Sachar, and Roald Dahl's Matilda.
What was your favourite subject at school and why?
I've always enjoyed English and Drama. I loved creating things, whether it was through science experiments, art, or writing. I also enjoyed music and played the piano. My sisters are all musical and growing up we would often sing together. My favourite subject actually changed regularly but throughout all of school, I always loved reading. I was a Carnegie Shadower and I had several very inspiring teachers who encouraged me to write!
If you had the opportunity to meet any author (alive or dead!), who would you meet – and why?
I'd love to meet Malorie Blackman. As a child, I adored her books and the questions they made me think about. I read Noughts and Crosses when I was thirteen and, along with Michael Morpurgo's Butterfly Lion, it was the first book that made me cry. From then on I sought out books that carried important messages and themes and moved me deeply in some way. These are the books I've carried with me into adulthood.
What advice do you have for young writers?
Keep a notebook for all those wonderful ideas.
Don't worry that your writing won't be good. You can always go back and edit it later.
Have fun and don't give up!
More About Jess Butterworth