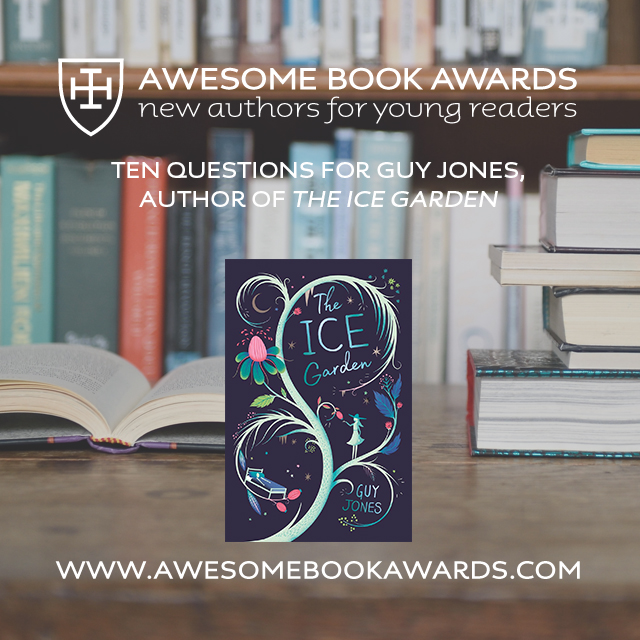 Where did you write The Ice Garden?
I like to find the perfect spot, with a comfortable chair, huge desk, and absolute peace and quiet. And then I discover that I can't write a word. So, in fact, most of The Ice Garden was written on crowded trains, in coffee shops and on the first floor of the St Albans branch of Waterstones.
What inspired you to write your book?
Really it came in hops. The image of the Ice Garden itself popped into my head fully formed, which was a stroke of luck. The idea for Jess – my main character – developed in a slower and more considered way. And, as I wrote, I figured out more and more what the story was about, and how I wanted it to feel…
Who is your favourite character in The Ice Garden and why?
I love Jess, but my favourite character is her eccentric neighbour, Mr Olmos. You learn a lot more about him in my next book, The Fire Maker, too.
How long did it take you to write The Ice Garden?
From writing the first word, to it hitting the shelves was probably about two and a half years. But I wrote various other things (mainly plays) in that time as well.
Describe your book in three words?
Magical. Eerie. Chilly.
How would you describe yourself as a child?
A little bit away with the fairies!
What was your favourite book as a child?
The Lord of The Rings. I read it over and over. I'm re-reading A Wizard of Earthsea at the moment, which I loved but had forgotten lots about. And I adored things like The Dark Is Rising series.
What was your favourite subject at school and why?
I loved English and History. I wish I'd taken the latter further, as I think it's probably the subject I was best at. I wasn't on such good terms with the Sciences, but now I find them fascinating.
If you had the opportunity to meet any author (alive or dead!), who would you meet – and why?
Gah, that's a difficult question. I'm going to go away and think about it… 
Okay, I'm back. Are you still there? Good.
It would be either Stephen King or Neil Gaiman. Or, you know, both. Yeah. Both.
What advice do you have for young writers?
Write. It's amazing how many people who want to be writers don't actually do any writing. So, write. Write pages upon pages until writing is as natural to you as waking up in the morning. Write stories, write plays, write films. Write poems, write essays, write a fake instruction manual for your washing machine. Write whatever comes into your head and don't worry about it being good or what someone might think about it. There's plenty of time for that later.
Oh, yeah, and read too. That's just as important.
More About Guy Jones