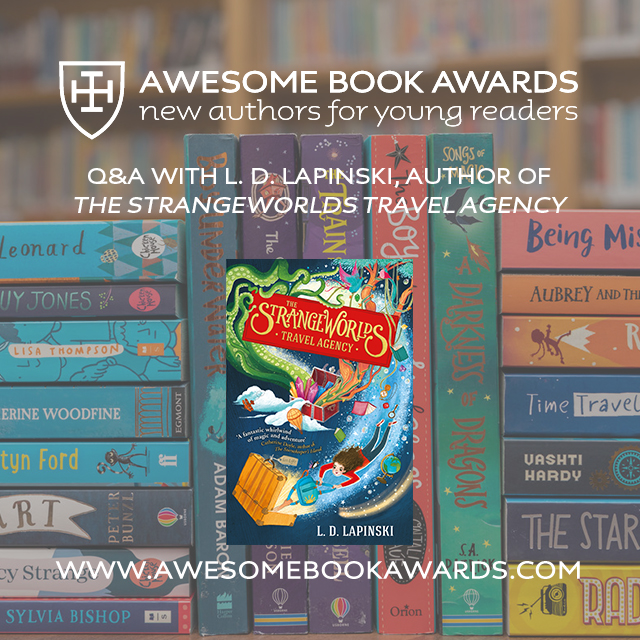 Where did you write The Strangeworlds Travel Agency?
I do most of my writing at home, in my office. I sometimes write on the sofa but if I do that I end up cricking my neck all out of shape. I tried writing on my phone over the summer, but I just ended up getting distracted and playing Animal Crossing on it instead.
What inspired you to write your book?
I've always loved stories where ordinary characters get to go to magical worlds, especially the portal element, like in Pages & Co., or His Dark Materials. Whilst I didn't ever sit down and think 'okay I want to write a portal story', the fact that I already loved them must have planted the seed for the idea a long time before I thought up the magical suitcases.
How long did it take you to write The Strangeworlds Travel Agency?
The first draft of it was very quick, only about ten weeks or so. But after that, I worked on it with my editor for a long time to turn it from a huge heap of nonsense ideas into a proper story.
What does a day in your life look like when you're writing?
Nothing has looked very normal for the past year, but in a world without lockdowns I would take my son to school, come home and make my breakfast whilst answering emails, then sit down at my desk and write. I know it's a bad habit but sometimes I'll eat my lunch at my desk if I'm really in the writing zone, and carry on writing until about 2pm, which is when my screen-headache usually arrives. Sometimes the words don't come at all so I'll shut my laptop at lunchtime and either read or play video games to soak up a story someone else has told, for a while. And then, it's time to collect my kid, and that's my working day done with.
Describe your book in three words?
Magical suitcase adventures!
In my book club, we scrutinise the shortlisted book covers and yours is a great favourite. To highlight the detail illustrated magnificently by Natalie Smillie, I did an exercise that they loved where I gave them 3 mins to look at the cover, took it away and asked them to list all the objects that they could see! A prize was given to the winner who if I remember correctly has found more than 20 items! Did you have an input to the design of the cover? You must love it as much as we do? I hope Natalie will illustrate books two and three?
Natalie is a wonderful illustrator, and I'm so happy to have her doing the covers for Strangeworlds! She has done the cover for book two – The Edge of the Ocean, and fingers crossed she'll want to do the third one as well. I didn't have any significant input about the cover – I'm not an artist and I trust the people whose job it is to know better than me what sort of covers readers like – but I did get to say whether I approved or not during the process, which is always fun because you get to see all the rough designs before it's coloured and finished!
With your book containing some many different worlds, it must have been very difficult to keep a track on all the places. Do you have a board, a bit like in police/crime drama, where you plot all the different places and the character timelines or do you have another method of plotting?
I do have a pin-board, but it's not actually used for work… it's covered in enamel badges and a map of the world where I've stuck a pin in the countries Strangeworlds will be published (yes, I am a huge nerd). I actually never write down the individual properties for each world, I just keep them in my head. But this was because when I was planning all the worlds for Flick and Jonathan to visit, I made each world have a purpose – one world had to be scary, one fun, one calming, and so on. So, it was easy to think 'oh, yes, this one is the fun world, so it needs fun description'!
How would you describe yourself as a child?
Pretty lonely, I didn't have many friends and I was bullied a lot. That's not a very cheerful answer, sorry!
What was your favourite book as a child?
I read my copy of Northern Lights over and over until the pages started falling out. I also really loved the Animorphs series – that was about some kids that could turn into different animals to fight aliens, it was wonderfully bonkers, and Artemis Fowl, which remains one of the funniest series' I've ever read.
What was your favourite subject at school and why?
Predictably, it was English. And I think it was my favourite because I was pretty much left alone by the teachers to do what I wanted until about Year 10. Though when I was in Year 6, my teacher called my parents into school to say she was very disappointed in me – I'd been repeatedly caught reading when I was supposed to be working, with a book hidden on my lap under the desk. My parents thought it was hilarious.
Which book are you reading at the moment?
I just finished reading Hannah Gold's The Last Bear, which is a beautiful story, and I'm about to start Tamzin Merchant's The Hatmakers, which looks very magical!
If you had the opportunity to meet any author (alive or dead!), who would you meet and why?
I'm torn between wanting to meet someone I dislike so I can kick them in the shins, or meeting someone I love so I can tell them they're amazing… I think I'll go with someone I love and say Terry Pratchett. I didn't start reading his wonderful books until after he died and I regret it a lot.
What advice do you have for young writers and readers?
Don't worry about grammar or spelling or writing things in the wrong order. If you want to tell a story, just tell it. If you want to start at the most exciting bit, go for it. If you don't know how it begins or ends, that's fine – because authors with books on the shelves don't always know any of those things either. I've been doing school with my son at home during lockdown and I still have no idea what a conjunction is.
More About L.D. Lapinski