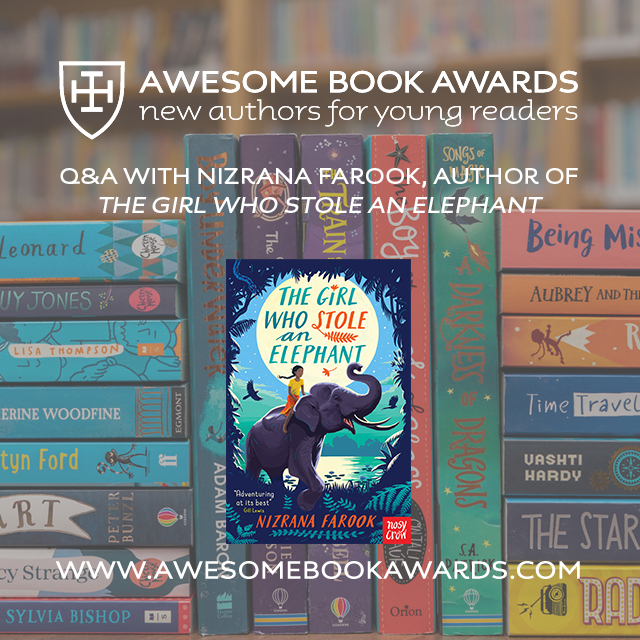 Where did you write The Girl Who Stole an Elephant?

I wrote the beginning of The Girl Who Stole an Elephant sitting at my desk one cold and dreary December while wishing myself somewhere warm and colourful. I think the book reflects that!
What inspired you to write your book?
I was doing a piece of writing for a course I was on at the time, but I didn't realise then that this was going to be a whole book. I wrote a chapter, and I liked it so much that I decided to write another, and another. Pretty soon I knew it was going to be a book.
How long did it take you to write The Girl Who Stole an Elephant?
It took me nine months to write the first draft, then three more months to edit before I submitted to agents. After I got my publishing deal I did a year of editing with my editor.
What does a day in the life of Nizrana Farook look like when you're writing?
I am at my most productive on school-day mornings when the house is quiet and I can concentrate on my writing. I sit at the desk after the school drop off and I put in as many hours as I can before it's time for pick up. I go for a quick walk in the morning sometimes to clear my head, but other than that it's pretty much head down and work on.
Describe your book in three words?
Friendship while adventuring.
As I am always on the lookout for debut novels for our award, I bought a copy of your book when it was first published and it has a pink sunset and purple colour palette. Since then the covers are now a blue/green colour palette. Who decided on this change and why? My book club are intrigued by this and are keen to know the reason for the change!
The cover was originally the pink/purple one that you mention and the first print run had that. I went to see the books being printed and I was thrilled at the sea of pink and purple that I could see all over! The book was then picked for Waterstones Book of the Month and a decision was made by the higher-ups to change the colours to appeal to a wider audience. At one stage both books were available but now they're all coming out in blue. I love both covers! The designer was Nicola Theobald of Nosy Crow and illustrator was David Dean.
My pupils who have read your book are transported to the wilds of the Serendib jungle on an adventure with a feisty heroine accompanied by an elephant who has great character, which has been a triumph to escape from the uncertainties of 2020 and all that has happened to us all. Is your book available to children in Sri Lanka and have you had any feedback from schools there?
Thank you, I'm glad that my book has transported you! We need that as we've stayed home for more or less a whole year. Ironically, the book isn't widely available in Sri Lanka as far as I know. It's been in a few bookshops and I've been sent photos by people but I'm not aware of any schools reading it. Maybe someday there will be a translation and then it would be more widely known.
Could you tell me where your author photograph was taken?
The photo was taken at Independence Square in Colombo, Sri Lanka. It's the location where SL's independence from British rule was marked in 1948. I am from Colombo, and lived fairly close to the place.
How would you describe yourself as a child?
I used to be very chatty when young, and used to get into trouble with teachers all the time – they kept complaining at Parents' Day that I talked too much in class when we were supposed to be working. But as an older child I quietened down. I liked to read, unsurprisingly!
What was your favourite book as a child?
Five on a Treasure Island by Enid Blyton is the book that brought me to reading, so that was definitely my favourite as a child. I went on to read all the Famous Five and then Blyton's other adventure and mystery series and the school stories too.
What was your favourite subject at school and why?
It was Maths, because I enjoyed it a lot. Unlike other subjects every question had a very exact answer, and I quite liked that! It's such a different thing to writing.
Which book are you reading at the moment?
I'm currently reading a book called The Weather Weaver by Tamsin Mori. It's not been published yet and will be out in a couple of months.
If you had the opportunity to meet any author (alive or dead!), who would you meet and why?
I think I'd like to go with someone from the past because it's more fascinating. Interestingly, I don't think I'd choose a children's author. Jane Austen maybe? Or Louisa M Alcott. I would ask them about their heroines Elizabeth Bennet and Jo March.
What advice do you have for young writers and readers?
I'd say first and foremost read a lot of books. You can't be a writer unless you're a reader, so it's very important to read for pleasure. There are so many types of books around – find one (or many!) you like and go from there. And keep writing. The more you write the better your writing will be.
More About Nizrana Farook