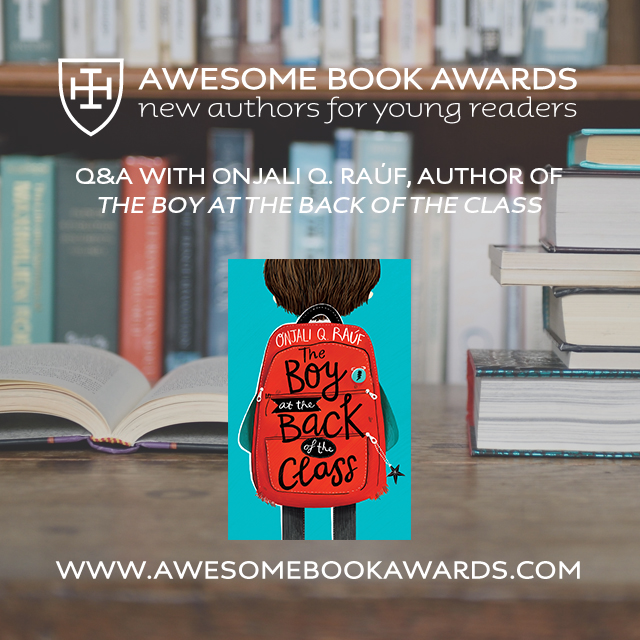 Where did you write The Boy at the Back of the Class?
Downstairs in the living room of my house, as at the time, I was recovering from major surgery and wasn't allowed to venture outside or climb any stairs (my bedroom is in the attic so I had to sleep downstairs). I was very bored and in a lot of pain, so writing the book helped me take my mind off everything and focus on something else.
 What inspired you to write your book?
All the brave children I had the honour of meeting in the refugee camps, and the amazing people I've met — volunteers and organisers, trying to help however they can to keep refugees warm, fed and alive.
Your book is dedicated to Raehan — the Baby of Calais.  Could you elaborate a little about him and his story?
I actually met baby Raehan before he was born — my team and I met his mother Zainab, when she was eight and a half months pregnant with him. She and her family had fled endless wars taking place in Afghanistan, and we knew she'd need help having her child safely (as refugees have to pay hundreds and thousands of euros if they need to go to a hospital). So, after we met Zainab, we rushed home to raise funds and baby goods for Zainab, and rushed back out again as soon as we could — only to find baby Raehan had been born safe and sound, thanks to the phenomenal works of not just the local volunteers, but other refugees too. I have a picture of me holding Baby Raehan — but unfortunately, my first time meeting him was also my last. As we were leaving the part of the camp he was in, we saw the French police moving in with tear gas and equipment to destroy — or what they call 'clear' — the camps. This happens every few weeks as part of a 'hostile policy' towards refugees, and it makes refugees run away and go into hiding. I haven't seen or heard anything of baby Raehan since that day, and I can't help but think about him and Zainab every day. For me, Ahmet, the refugee boy in the story is Raehan — it's my imagining of what might happen to him if he was older and made it to the UK alone, without even his mum. As so many refugee children have had to do.
Did you have the idea of keeping the gender and name of the child narrator a secret before you started the book or did the idea come to you whilst writing?
I knew from the beginning that I was going to 'hide' the name and gender of the narrator. Because I wanted it not to matter what name they had or even where they came from, and for the focus to be not on them so much, but their reactions to the boy that's just entered their life. It was tricky, but except for one slip up, I think we managed to keep the gender a secret right until the end! And I love the surprise in people's voices when they tell me they had assumed wrong about the narrator.
How long did it take you to write The Boy at the Back of the Class?
The first draft took nine weeks — probably about seven writing, and two weeks drawing some awful pictures to go with it. The editing took far longer — nearly half a year I think!
 What does a day in the life of Onjali Raúf look like when you're writing?
It depends on what stage I'm at really. If it's at the beginning ('fun') stage where I'm trying to get ideas or researching, I usually get up early (around 6am), do some doodles and notes before heading to work (for Making Herstory and O's Refugee Aid Team) or school talks. Then I'll go back to writing and note-making in the evenings after I get home. However, if I'm at the dreaded deadline stages of writing (usually a month or two before the first draft of the final book has to be in and everyone is chasing me! Eeek!), I usually cancel everything, and lock myself away in my room for weeks until I finish it. I find it very hard to finish books, which means I have to lock myself away and disappear. So my days can completely vary depending on which stage of the writing deadlines I'm facing…
We know that you do a lot of charity work for refugee families. What does a day in the life of Onjali Raúf look like when you are in Calais or Dunkirk in one of the refugee camps?
No trip is the same — every convoy is different depending on what the teams we aid need from us. But usually we'll have a very early start. I'll have spent at least the week before trying to get goods in and sorted, funds in and tallied up, and all the shopping done and packed for the groups we try and help, and despite my best intentions, never get more than a few hours' sleep the night before we head out. So I'll have usually gone to bed at 1-2am, and then am up at around 4am-5am with all the team (who usually meet at my house or who we might meet at Dover), and head to Dover/Folkestone to catch an early ferry or train out to Calais. We have to remember that France is one hour ahead, so no matter how early we get there, we always feel as if we're late!
After we land, we usually head straight to the main warehouse in Calais, to deliver all the bulk goods we've collected for the Refugee Women's Centre (sleeping bags, tents, leggings, shoes etc.). Unpacking might take an hour or so, and then we'll head straight out to drop goods to the Mobile Refugee Support Team (also in Calais, and who also need lots of goods like sleeping bags and tents, but also need specialist goods like headphones and charger wires, fresh foods etc.), before either meeting up to help with lunchtime distributions in the camps or goods allocations, or heading to our very special housing project (Maison Sesame — a new refugees shelter project we're helping to develop), to have a meeting with the team there and find out what's happening/what's needed. Sometimes, we have time to do both the camps and the house too.
The late afternoon/evening is usually spent hitting local stores buying up more fresh foods or any goods/medicines — things we didn't have enough space in our cars/van or didn't have time to get (which is why we always try and raise funds too), getting these delivered to the volunteers coming in/about to head back out to the camps, before doing a tally of what funds/goods we have left. If we're staying on for more than just a day, my team and I will stay for the evening somewhere nearby, before starting up again with distributions and aid the next day. Or we'll head back home in the hopes of reaching London again before it hits midnight! So they're very long days, but nothing in comparison to what the teams on the grounds are doing every single day.
Describe your book in three words?
Hopefully yours.
How would you describe yourself as a child?
Always daydreaming, never without a book, quite stubborn, and always asking questions (even when I had just been told to be quiet!).
What was your favourite book as a child?
There are way too many favourite books to answer this question. Matlida, Black Beauty, the Tintin comics, The Railway Children, Five Children and It, Charlie and the Chocolate Factory, all the Poirot stories by Agatha Christie, The Famous Five, The Hobbit…the list is endless. Sorry.
What was your favourite subject at school and why?
At primary school, definitely English. At secondary school, English, geography and history. I loved learning about the world, the people in it, and the stories they had to tell. Still do!
Which book are you reading at the moment?
I always have at least three books on the go for different times of the day (a 'breakfast book', an 'in-transit' book, and bedtime books). Right now, in the morning, before work, I'm currently reading The Hopkins Manuscript by RC Sheriff; in transit and whilst on trains and on buses, I'm reading The Letters of Sylvia Plath (Volume I) and at bedtime, I'm in the middle of re-reading E. Nesbit's Psammead series, and have just got to the third book, The Story of the Amulet. Mainly because I like laughing and grinning before I fall asleep.
If you had the opportunity to meet any author (alive or dead!), who would you meet and why?
Oh, so many! Mary Wollstonecraft and Mary Shelley (mother and daughter feminist sheroes); Virginia Woolf (she made me want to go to Oxford University); Maya Angelou (because she was a genius who saw beauty even in such a cruel world); Abraham Lincoln (not a book writer, but his speeches were magnificent and he was a fantastic story-weaver); all the Bronte sisters (to find out how they created such masterpieces in a world that was so confining and small for women at the time); Roald Dahl, Oscar Wilde, JK Rowling…for obvious reasons…Sorry again. Can never answer this question with just one name!
What are the main messages you would like readers to take from reading your book?
That there is ALWAYS something you can do to make someone's world just that little bit brighter. Even if that something is as simple as asking yourself a question and going out into the world to find the answer. Or gifting a lemon sherbet.
What advice do you have for young writers?
Never give up. Always keep writing — even if you're being told your writing will never 'lead to anything'. As long as you love it, keep at it until you get to where you want to be. It won't be easy. And life will do it's best to convince you to stop. But you have to go on.
And finally, a question from Mrs Fenton, Librarian at Cranleigh Prep School and her Awesome Book Award Book Club:
If it not too rude to ask….What does your middle initial Q stand for? We are intrigued!
Not too rude at all (ha ha)! The Q stands for 'Qatara', an Arabic word meaning drop/droplet of water. Although my mum told me it was drops of moonlight! But not sure she's right on that one!
Reading Resources
Click here to download a poster of The Boy at the Back of the Class
Click here to download a word search based on The Boy at the Back of the Class
Click here to download a PDF of teachers notes based on The Boy at the Back of the Class
More About Onjali Q. Raúf