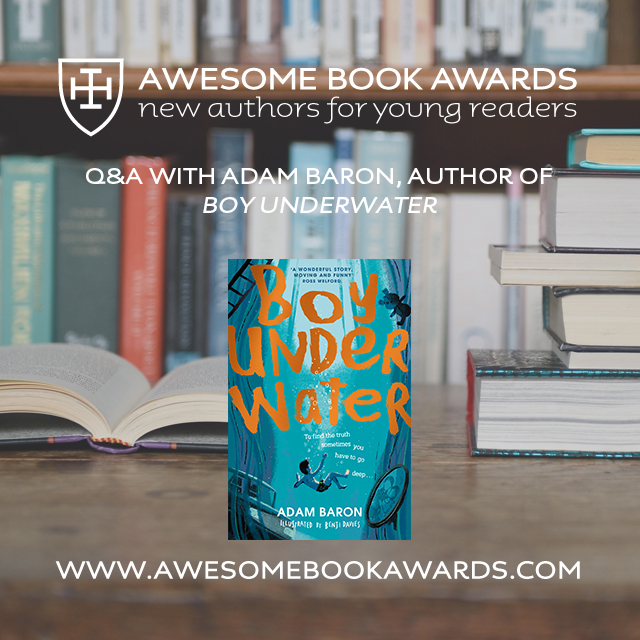 Where did you write Boy Underwater?
Mostly at home thought sometimes in cafes. I was working in Athens and finished it there.
What inspired you to write your book?
My children told me to as they knew I already wrote books for adults. I also helped out at a school swimming lesson…
Which came first the character or the name Cymbeline Igloo?
They both came together in a magical sort of way that I don't understand…
The illustrations in the text by Benji Davies are both bold and sensitive and enhance your book. Did you and Benji collaborate over which parts of the book would lend themselves to an illustration?
I was so pleased when Benji agreed to illustrate the book. He came up with ideas for the scenes he wanted to illustrate, and I agreed with them all.
How long did it take you to write Boy Underwater?
About a year.
What does a day in the life of Adam Baron look like when you're writing?
I drink tea and tidy up and do anything to prevaricate. But then I get on with it in a mad flurry.
Describe your book in three words?
Bright, funny, gripping.
How would you describe yourself as a child?
I was a mixture. I was really sporty but a real introvert too. I loved books. I had five brothers and a sister and needed books to escape into. I was pretty small as a child and really sensitive about that.
What was your favourite book as a child?
Viking's Dawn by Henry Treece
What was your favourite subject at school and why?
English because I loved writing stories and I had some great teachers. I also loved history as that was full of stories too.
Which book are you reading at the moment?
Don't Point That Thing at Me by Kyril Bonfiglioli. Very funny and naughty and definitely not for children. I'm also reading Homer's Iliad to my son — it's incredible.
If you had the opportunity to meet any author (alive or dead!), who would you meet and why?
I think it would have to be William Shakespeare because he seems to know everything. I'd ask him who his favourite character is.
What are the main messages you would like readers to take from reading your book?
That they loved it and therefore thinking reading is wonderful. I hope Boy Underwater also shows readers that you don't have to have a conventional life to be happy.
What advice do you have for young writers?
Read read read…And then just launch in to stories. Stretch your imagination as far as it can go.
Click here to access reading resources and book club activities based on Boy Underwater. This is just the first chapter, but there a reading resources for each chapter of Boy Underwater. If you would like to request these, please send an email to info@awesomebookawards.com and a member of our team will be in touch.
More About Adam Baron