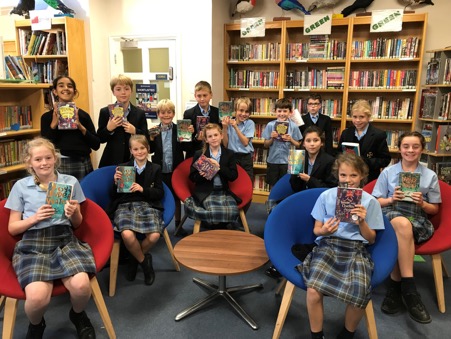 A new school year and a new term for Cranleigh Prep School heralds two exciting events; a new Patron of Reading, Emma Carroll, and the anticipation of the launch of the shortlist for Awesome Book Awards 2020. Following the last three successful years, the awards are now an integral part of our School calendar, and all our pupils are encouraged to read the shortlist. I also run a dedicated Awesome Book Awards book club once a week which is offered as an activity session. This is from a large list of options, so competition is fierce. My group this year consists of 18 pupils, but I have over 35 other pupils who are shadowing the awards, ranging in age from year 4 to year 8, plus three staff members who haven't already read them.
Our club meetings began before the 2020 announcement, so I took the opportunity to canvas the book club members on their reading habits, which is a really useful thing to do. Different trends come and go, so it's good to tap into the types of books that they are currently seeking to read. I adapted a template from the Bookbuzz programme run by the BookTrust, which is used for pupils to think about which genres of books they like and dislike. When asked to complete the sentence 'I like books about…' every single child in the group wrote down adventure, amongst other things. Obviously, this can be subdivided into other genres i.e. fantasy adventure, historical adventure, animal adventure, but primarily they are all enjoying and seeking out stories which take them on exciting and often risky undertakings or exploits. For me, this is the hallmark of reading for pleasure, and I knew the new shortlist was going to fulfil this desire.
For our second meeting, also before launch, we brainstormed what attracted them to particular book covers, which proved to be a lively discussion. I particularly wanted to do this before they see the covers of the 2020 shortlist to see if I could predict a standout favourite. The general consensus was that simple graphic designs were the most attractive and they especially love books where the title is incorporated into the cover design in some way or if characters on the cover sit on or interact with the lettering. The Murder Most Unladylike series was a prime example cited by several of them. Colour, of course, was contentious. Blue, orange, yellow, red and purple were the most popular and brown and gold the least! Many of the group also love a wrap-over cover where the design extends round the spine to the back. I tried not to lead too much in this session as I wanted their honest opinions, and I thought it quite telling that none of them mentioned the quotes from other authors that so often adorn a cover. I think parents, teachers and librarians take much more notice of these than the child reader. Certainly for parents who are daunted by the huge choice of books available, they are an indicator of whether their child will enjoy the book. I must admit I feel so proud seeing a quote from one of our previously shortlisted authors on the cover of another novel, especially a debut one I am considering for selection.
Launch day arrived on October 1st and there was huge excitement in the library at break time when I revealed the shortlisted books. Having already bought multiple copies of the books, my book club members had first priority in taking out their first choice book and our first meeting after launch was taken up with reading the blurbs and familiarising the pupils with all the fantastic titles. There was also great delight from those pupils who had already read one or two of the shortlist. Both Boy at the Back of the Class and House with Chicken Legs have been very popular books with our pupils, and unusually for debut novels have had quite a lot of publicity.
At our most recent meeting, I divided the members into five groups and gave each group one large copy of the front cover of one of the books. They then had to discuss and write down any comments they had about that cover. This was to include absolutely anything they noticed, including shape and size of any lettering, colour palette used and why, position of the title and authors name, what could they ascertain the book was about. In our next session each group will present their findings to the others.
Half term is now upon us and all the participating pupils have gone home well-armed with one or two copies from the shortlist.
Happy Reading to you all!
Mrs Alison Fenton, Librarian, Cranleigh Prep School