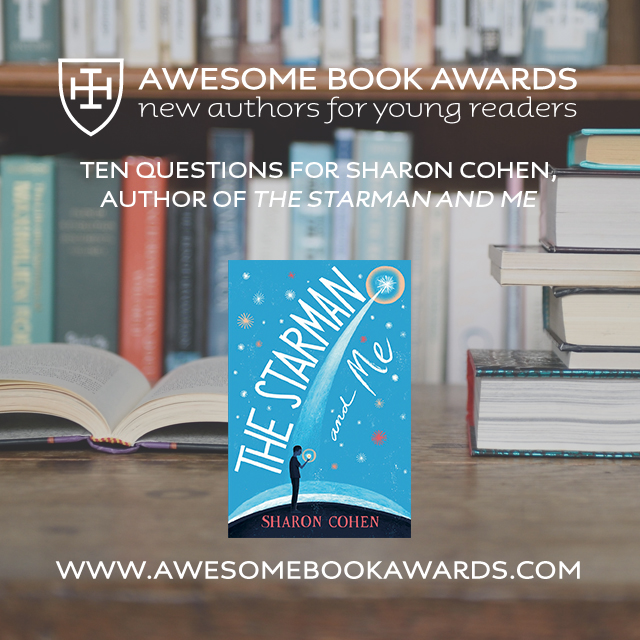 Where did you write The Starman and Me?
I wrote The Starman and Me in different places. Most of the book was written at my desk at home where it's quiet and I could be completely immersed in my story world. When I was visiting relatives, I sat at a little foldable table in the bedroom or the garage (take a look the photos on my website in Extras/Where I work and leave a comment or a question, I'd love to hear from you!).
What inspired you to write your book?
There were many inspirations for The Starman and Me. The first was a small stone hut on a roundabout with a dark doorway. I imagined that someone or something could be living there. Around the same time, on the other side of the world, some scientists had found the skeletons of a completely new human species. They lived about 50,000 years ago and were only a metre tall – the perfect size for my stone hut. They were the inspiration for 'Rorty'. I'm always on the lookout for new developments in science and became interested in brain implants. These too made their way into the book giving Rorty some unexpected powers.
Who is your favourite character in The Starman and Me and why?
What a difficult question! All the characters have been living in my head for so long, I love them all. If I have to choose, I'd say Kofi is my favourite because he's kind and smart and brave.
How long did it take you to write The Starman and Me?
The Starman and Me was the first full length book that I ever tried to write, so I worked on it over a few years in between my job and bringing up a family. As I was writing Starman, I was also developing my writing style and learning about characters, plots and settings.
Describe your book in three words?
Intriguing. Touching. Original.
How would you describe yourself as a child?
I adored nature and the outdoors. I was happiest when I was running over the moors, walking in the Lake District, learning about the wonderful world around us. My mum was both a teacher and a librarian so this encouraged me to be interested in books and writing. If you like, you can read some of the stories I wrote at school on my website.
What was your favourite book as a child?
This is tricky because I loved so many books, but if I have to choose I would say Richard Adam's Watership Down with The Chronicles of Narnia by C. S. Lewis as a very close second favourite.
What was your favourite subject at school and why?
My favourite subject was biology because the more I learned about the natural world – how animals and plants work, what they're made of, where they came from, what they look like under a microscope – the more I wanted to find out.
If you had the opportunity to meet any author (alive or dead!), who would you meet – and why?
There are so many authors that I'd love to meet but David Almond would be at the top of my list. I adore every one of his books and it would be a pleasure to talk to him about his writing, what inspires him and maybe, what he's going to write next.
What advice do you have for young writers?
Reading is important if you want to write, so read anything and everything – poetry, magazines, comics, newspapers and lots and lots of books. When you read, you're learning the rhythm of words and sentences which helps with your writing, and you're also creating pictures in your head which develops your imagination.
Try different types of writing – newspaper articles, letters, poems, book reviews, postcards. Write about things you've experienced – holidays, dreams, adventures with friends. Ideas for stories come from all sorts of things – something you imagined, overheard or read about, somewhere you visited, something you saw on a walk, on holiday or in the street. Write about what you're interested in and what fascinates you; it could be adventures, wizards, football, magical lands, cooking, goblins, anything you like! A story usually has a problem that your main character has to work hard to solve. At first, try writing about people you know and places you're familiar with, then make something extraordinary happen.
Have fun!
More About Sharon Cohen