Biography
Katherine was born in Preston and grew up in Lancashire. She's always loved books, and after spending her school days reading compulsively, writing plays, editing the school magazine and writing endless stories, she went to study English Literature at Bristol University, followed by an MA at the University of Manchester.
Her very first job was working in a bookshop (Waterstones Lancaster) and since then almost everything she's done has had a bookish theme, including working for Arts Council England's North West office, specialising in literature.
After moving to London, Katherine spent six years working for reading charity Book Trust. Where she was lucky enough to be the project manager of the Children's Laureate, which gave me the chance to work with children's writers and illustrators including the likes of Anthony Browne, Julia Donaldson, Malorie Blackman and Chris Riddell. She also looked after events such as YALC (the UK's Young Adult Literature Convention) and prizes such as the Blue Peter Book Awards.
Katherine now combines writing with other children's book projects. In 2014, she started a monthly children's book radio show, Down the Rabbit Hole on Resonance 104.4FM, which she runs and co-hosts with Melissa Cox and Louise Lamont. Find out more about the show at dtrhradio.com or subscribe on iTunes.
Katherine first book, the bestselling The Clockwork Sparrow, was published in 2015 and was shortlisted for the Waterstones Children's Book Prize, longlisted for the Branford Boase Award and nominated for the CILIP Carnegie Medal. It's been followed by two more titles in the Sinclair's Mysteries series – The Jewelled Moth and The Painted Dragon. The final book in the series, The Midnight Peacock, will be published in October 2017.
You can also find more of my writing in three short story anthologies – Mystery & Mayhem, Winter Magic and Quest. In 2017 Katherine was selected as one of the Aarhus 39 – a selection of the best children's and YA writers from all over Europe, aged 40 and under. I'm represented by Louise Lamont at LBA Books.
Kathrine tells us her all-time favourite book is I Capture the Castle by Dodie Smith. Apart from books and writing, she loves art galleries, drinking tea, wearing cosy jumpers, going for long windswept walks, black and white films, red shoes and of course, cake.
You can find out more about Katherine on her blog; Twitter, Facebook, Instagram, Pinterest; or check out her Youtube channel.
Shortlisted Books by Katherine Woodfine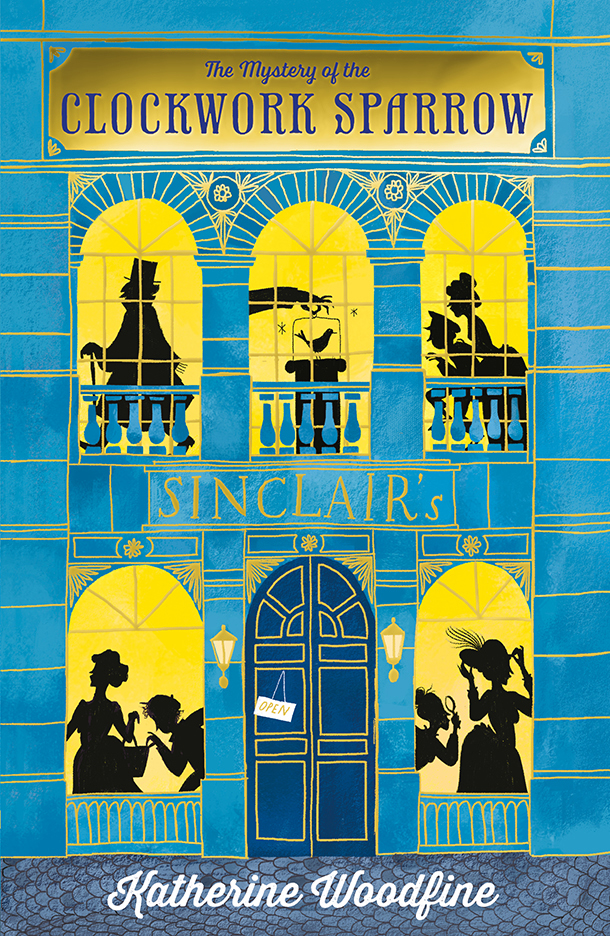 The Mystery of the Clockwork Sparrow
YOU ARE CORDIALLY INVITED TO ATTEND THE GRAND OPENING OF SINCLAIR'S DEPARTMENT STORE
Enter a world of bonbons, hats, perfumes and mysteries around every corner.
Wonder at the daring theft of the priceless Clockwork Sparrow!
Tremble as the most dastardly criminals in London enact their wicked plans!
Gasp as our bold heroines, Miss Sophie Taylor and Miss Lilian Rose, break codes, devour iced buns and vow to bring the villains to justice…
A splendid adventure awaits you.
This book was shortlisted in: 2017